CMP015 Twitter For Business Part #1; 32 Tips To Skyrocket Your Twitter Following [Ethically]
Welcome To Episode 015 of The Content Marketing Podcast
This Thursday I'm talking Twitter. I use Twitter for business purposes and it is my primary Social Media platform. I started on Twitter in 2009 and never really got with the swing of it. I found it tricky to follow so my account lay dormant. Only when I launched this site did I really begin to take Twitter seriously. When I did, my following exploded.
My following grew quite substantially in the last 6 or 7 months so the purpose of this, the first of three podcasts (and blog posts) is to detail for you how I did it. What tactics, and what tools I used along the way.
Let's check out the show…
Contents;
Links From The Show
(Introduction) Notes From The Show
If you are using Twitter For Business purposes, then it's reasonable to suggest you have a strong interest in growing your following.
After all, more followers = more opportunities.
Twitter can be a powerful platform for content marketing, but only if you know how to follow the rules and use it effectively.
I don't consider myself expert, there's people doing a far better job than me. I just spend a crazy amount of my time on Twitter learning how to use it, and as such I've managed to pick up a few things that seem to work.
After learning from what others are doing, I've managed to grow my follower count a chunky 2812% since 01 January 2015 so something was working.
Once you keep implementing the strategy I'm going to show you here, and in the subsequent three posts you could be at 1ok quality targeted followers in 6 months no bother.
This chart shows where I was, when I started to put the work in.
So over the next three posts, I'm gonna show you;
32 Tips To Skyrocket Your Twitter Following. (This Post)
Social Media In General
From a business perspective, there's no doubting the effectiveness of the Social Media platforms like Twitter for delivering your business message.
However too many businesses believe that they need to be on every platform that moves, and this can be counter productive.
I would be inclined to suggest that you guys pick one or two social media channels and focus your energy there. Become an expert and refine your process and you'll see results.
When we lack the resources to be effective on multiple channels, the effort we put in is generally wasted, so I tend to stick to one or two Social Media platforms with Twitter being primary.
High follower count is great but it's useless if your followers are low quality or spam accounts. Don't get drawn into the vane game!
The real proof of the pudding is what return you receive from your marketing effort. Having the followers is merely a platform to get started.
Check out this guide from Twitter for businesses that are new to the platform. You can find out the basics of what Twitter is all about.
You can find lots of other helpful business information from Twitter for beginners right here, and they have a dedicated Twitter Small Business Blog that has some helpful posts too.
#1 Select A Relevant Twitter Handle
The Twitter Handle (@yourname) you choose is an important element of your brand representation on Twitter so pick one that's relevant to your business name.
Using one with numbers like the year you were born such as @JoeBloggs1980, or your favorite football team, or some reference to a personal thing is not going to represent your brand.
If your brand is your name get a handle as close as you can to it.
I chose to put the "G" in all my online profiles because there were already several "Larry Maguires" out there. I needed to be a little different and "larrygmaguire" worked for me on pretty much all online social profiles and accounts.
It's also good to keep in mind that your Twitter Handle will be used by the Search Engines to find you so take some time to pick a good one.
If you are using a name that is a trademark of company, Twitter will remove it from you upon receipt of a complaint.
You have 15 characters for your handle, use them wisely!
Include your personal name if it's a personal account
Include your business name if it's available, or some sensible derivative of it.
Add a country extension such as UK, US, IRE, FR etc where it's relevant and to distinguish from your company accounts in other geo locations.
Use numbers it looks terrible and hardly ever make sense, unless it's in your brand name.
Don't pick a risqué Twitter Handle as you may regret it later.
Don't select a Twitter Handle that infringes on a company's trademark.
#2 Customise Your Twitter Header Image
The recommended image size for the Twitter header image is 1500 x 500. Twitter will crop it down from this.
It's also good to note that the Twitter header photo is cropped to a 2:1 aspect ratio on mobile.
Customising the header image is so easily done, so it's a wonder how many profiles get this wrong.
Canva is the tool of choice these days and it has a template all ready to go for you to easily setup your Twitter header image with background and logo.
Canva simplifies what would otherwise be a tricky ask for most non techies, leaving only (I say "only" but it's not really an "only") a little bit of creativity to produce a nice image with your company logo.
My only problem with Canva is that it slows down regularly and you can potentially lose your work.
Use a high resolution image. When Twitter resizes your image it will render well and not be blurred
Use images that are free or that you took yourself.
Add your own branding before you upload the image, which you can do in Canva.
Avoid the temptation to add too much information. Too much info means nothing gets seen.
Always make sure to check your profile on your mobile phone after you set it up or make changes. Mobile layouts vary quite a bit, and you could lose half a logo in the mobile display.
#3 Create The Perfect Twitter Profile Picture
Your Twitter profile picture is very important and so you must get a few things right.
The recommended dimensions for your Twitter profile picture are 400 x 400, so try stick to that. You can crop the image in Twitter but if it's too small then it won't display well at all.
Make your profile picture of you, not a logo, unless your profile is a business brand. The thing is, people want to deal with people so if your brand is you then make your profile image of you.
Lighting, background, camera quality and other factors come into play when you're taking a profile photo so it pays to research how to get it right.
You can usually get a decent quality shot using your phone's camera, but don't be tempted to use the facetime camera on your computer because they usually produce pretty shitty results.
Make it a head and shoulders shot, and smile, if you can squeeze one out (a smile I mean). Follow this advice from @DarrenRowse at Digital Photography School and you won't go far wrong.
#4 Praise Others Not Yourself
By all means big yourself up, yes sure, go ahead. You need to, it can be a big intimidating world out there. But please have some reservation with regard to bestowing titles on yourself.
Don't label yourself a "Thought Leader" or a "Visionary" or this kind of thing, out loud I mean, even if you are one! These titles are reserved for use by those who wish to apply them to others, not by us to apply to ourselves.
I'm all for dishing out praise, but piling it on yourself in your Twitter profile will actually bring about the opposite of what you wished it too.
My mother said "Self Praise Is No Praise" and I'm inclined to go with her on that. Besides, it has more kudos when it comes from others rather than ourselves.
You might have designs on being a thought leader some day, and that's fine, I'll see you up there! But for now keep your designs to yourself. When you make it the world will let you know.
If you decide to tell the world you are before they know it, well, you might get a little bit of stick.
Even if it's true to some degree, and you are a thought leader with 125k followers on twitter, I'm still gonna tell you to sling your hook if you claim one of these titles.
Here's an example of a Thought Leader's profile
#5 Make Your Twitter Profile Link Readable
If you have an email signup page on your site then use a link to it here. Your homepage will do once you have it set up as a landing page.
You can set up an optimized landing page easily using LeadPages. Check out this article I wrote about Landing Pages a little while ago.
Don't use some regular web page if it doesn't have an obvious call to action or the traffic to your site via this Twitter link will be wasted.
My homepage is a signup page so I'm set to grab an signup when they visit.
Don't use a long winded url for your profile link because it won't be readable on your profile and certainly won't be readable on mobile devices.
Besides, it looks very untidy to have a long winded url in your profile. Tidy it up will ya!?
If your URL is long and clumsy then go to url shortener bit.ly (or other url shortener) and customise it to a shorter and easily identifyable one.
Also, make sure the url says what the user will find on your page.
Shortening Links
Using Bit.ly you can customise longer links into shorter easy to remember links. You also can share them easily.
Another way to do it, if you are running WordPress, is to install Pretty Link Plugin.
With this free plugin you can customise any link, either your own or any external link from other sites to a link on your domain
Example;
Lets say you had a sign up page on your site like this;
http:// blog.yourmembersite.com/business/subscribe
This url will not display very well on your twitter profile, so you'll need to shorten it.
With bit.ly you can turn it into something like this;
http:// bit.ly/subscribe
The trouble with using Bit.ly is everyone on the planet gets to use it so you need to be inventive about your shortened urls
Pretty Link Plugin
With Pretty Link Plugin the links are on your own domain and you have far greater scope to select a short url you want.
Custom Link Shortener
With Bit.ly you can customise your short url by buying the domain you want and then telling Bit.ly about it. Once you set things up it will replace the "bit.ly" or "bitly.com" shortlink.
Check out this article explaining how it's done
#6 Always Follow Back (Sometimes)
Following back is generally considered a good practice, unless you have an Uber Ego that needs to have 50,000 followers and only follow 10 people!
Good and all a practice as it is, you should be a little picky about who you follow. There are hundreds of thousands of dodgy accounts on Twitter set up by click farms around the world so you don't want to have dodgy accounts on your timeline.
I have the Twitter App sending me notifications on my smart phone so I have a quick browse of those who follow me during the day and if they are in my niche or seem interesting then I follow them.
This is ok when your follower numbers are manageable, but will eventually become exhausting as you increase your daily following, so you'll need to employ some automation like Manage Flitter later.
I have a tendency to follow real people first, bloggers and marketers. I'll follow a company if their profile matches my interests but not a hard and fast rule.
Have a quick browse through their recent tweets and if you see the same type of tweet being hammered out to everyone then you know the account relies on bots (robots) to tweet for them.
Keep your Ratio of Followers : Following below parity, i.e. don't follow more than follow you. Keep parity if you must but don't go over.
This is because Twitter limits profiles to follow only 2001 accounts if your Following : Follower ratio is high
#7 Share Other People's Content
Sharing other people's Tweets and content helps you build relationships. Decide which influencers you want to get to know and ReTweet their stuff. It will help you get noticed.
Also, retweet and share other people's content at about a rate of 10:1. When you Tweet too much of your own stuff it says you don't really give a hoot for anyone else, only yourself. That's a bad buzz.
It might get some traffic to your site but that's not enough.
All Social Media profiles can work well for you if you put the energy in and engage with your followers. Sharing your Twitter followers content is one of the ways you can build relationships.
For those who like your stuff, and who engage with you, there will be good interaction. ROI will never be near what you would experience with email marketing however you can still do quite well.
Experts like @KimGarst have made good earnings from building her Twitter following this way. Here's what she has to say about Twitter for Business;
Twitter is my #1 source of social media referral traffic and consistently in the top 3 sources of my website traffic as a whole. I also use it consistently to drive traffic to my free offers which lead to "top of funnel" products and services with amazing results.
Yes her numbers are large and it might be a little beyond where you are right now, but she started at zero.
Her practice serves to show if you focus on one platform you can make it work big style!
#8 Reply To Retweets & Mentions
It's all about engagement with others. Everything you do online should be about building relationships and as I mentioned above, Twitter is not different.
Reply to retweets and mentions from other members on Twitter whether they follow you or not. If someone retweets or mentions you, follow them, then say thanks.
Here's what I've started doing and I've got some good feedback from it.
I created this Thank You image using Canva and tweeted it out in response to a mention I received.
@ReliablesoftNet pic.twitter.com/58egmgMePn

— Larry G. Maguire (@LarryGMaguire) September 8, 2015
After I tweeted it out, I went to my iPhone and opened the image from the Tweet and saved the image to my photos. Now, if someone tweets my stuff I reply to them @username with this image. Some who I send it to don't respond, but most do with a favorite or a retweet. Here's some of the responses I've received;
Every time I share a post by @LarryKim or @LarryGMaguire they fav it, retweet it, and/or thank me for it… EVERY TIME #VeryCool #LarrysCare — Vic Maine (@GetWeeTweets) September 3, 2015
Awesome @LarryGMaguire! https://t.co/A2GB6qAWBk

— Bloggista (@bloggista) September 7, 2015
It's a small thing that you can do a couple times a day and it takes no time. It literally 5 seconds each tweet and can have lasting effects i.e. you'll be remembered.
#9 Don't Auto Post From Facebook To Twitter
If you've linked your Facebook Page or Profile to Twitter, then head on over now and undo it. I'll explain why in a minute…
To disconnect your Twitter account from Facebook:
Log in to the Facebook account and go to; https://www.facebook.com/twitter. You'll see the following page below
Click the Unlink from Twitter link.
If that doesn't work (It didn't for me) just untick the boxes under "Edit Settings"
Hit "Save Changes"
Auto posting Facebook updates to Twitter suggests to your twitter followers that you're not really that bothered to post directly to Twitter.
If you just post a photo to Facebook with no text in the body, or share someone else's update directly with no further comment, it will only appear as a link in your twitter feed.
There's absolutely no sense to it whatsoever as no one is ever going to click on it.
Also, if your Facebook update has more than the customary 140 characters allowed on Twitter, including the link back to the original Facebook post, your message will be cut off and won't make much sense to the reader.
Auto posting Facebook updates to Twitter is not good marketing. It's dumb and it's not going to get you any wins. Besides, there are ways to auto post the same update to multiple platforms at one time such as Buffer and Hootsuite.
So it begs the question; why bother?
#10 Schedule Tweets Around The Clock
Online is 24 hours a day, so why sleep?
Just stay up all night and tweet. Or if you can't do that, you could set you alarm to wake you every 30 mins so you can send a tweet and build your following around the clock!
Ok, I'm obviously joking. But you can automate delivery of your tweets over a 24 hour period using a third party application, or a combination 0f two or more applications.
I use Buffer. You know how Buffer works right?  If you don't check out this resource to learn more about it.
Here's what @KevanLee from Buffer has to say about Twitter For Business;
If you're just starting out and want to build your following, start by attracting the content curators, they are the ones who will actually share your content and be the foundation of your increasing reader-base.
Let me show you how I use Buffer…
First you'll need to create a free account, then sign up for the Awesome Plan (It's 100 bucks/yr)
Next, go to the Schedule tab.
Under Schedule, click the days you want to send Tweets. I send every day Mon – Sun
Next set the time of day you want your tweets to send. Set times about 60 mins or so apart with variations of a few minutes either side of the hour. If you want to send every 30 mins then fine.
Here's what your schedule will look something like;
Next you'll set up your feeds
In your dashboard, under content you'll see a tab called feeds, click it.
In feeds, add the url of your favorite blogs and Buffer will pick up the feeds for those sites.
Select posts you want to add to your social media account que.
These will be added to your social media account queue as per the schedule you set earlier.
With the Awesome Plan you get 200 items in the queue for each social media account, which is great as it means you don't need to spend time tweeting all day every day.
However, when you are tweeting around the clock those 200 items you queued are published to your feed very quickly. Besides, adding 200 tweets to your queue is a heck of a lot of teeing up of tweets.
What if there was a way to completely automate the process without spending any more dough?
Well there is. I found a workaround to make that happen…
#11 Learn How To Direct Message
Ohhh the dreaded Direct Message. It's a spam generator!
Too many people on Twitter are spamming the heck out of the rest of us with crappy calls to buy Twitter followers, follow them on Facebook, LinkedIn or otherwise.
It's a pain in the ass.
Please realise before you set up any auto Direct Messages, or send them manually looking for business, it's extremely unlikely that they will do any good at all.
In fact it's more likely that you piss off genuine potential customers. You need to be a bit more inventive. There is so many people on Twitter sending DMs that you'll just blend in.
Anyone worth connecting with doesn't spend their time answering DMs from strangers. Believe me.
Here's a screenshot of my message feed. 6 of 7 messages are asking me to take some kind of action.
An Example Of a DM That Does Work
A couple months ago I signed up for an account with Unfollowers. I wanted to try build my following and get a little more efficient about it.
I've since pretty much stopped using that service in favour of this one, but it has this feature where you can send a Direct Message when someone follows you.
Here's what I sent people when they followed me;
Hey @username, Yes I know, auto DM's kinds stink. I just wanted to say hi and thanks for following.
I didn't get a response every time but I'd say 1 from 10 followers replied to me with a positive comment. It created a bit of fun and conversation and that's exactly what I wanted to achieve.
What DM's Should Be Used For
DM's and Auto DM's should be used for genuine conversation, like customer service. Twitter peeps don't like getting unsolicited DMs and they have declared them the #1 reason for unfollowing an account.
Unsolicited Auto DM's can really damage your credibility and as such you should tread lightly when using them. There is certain etiquette to be observed and expectations to be met on every social media platform, and where Twitter is concerned, Auto DM's are dangerous ground.
#12 Repost Older Blog Content
This is a good one.
As you produce content and deliver it to your audience, over time it drifts to the basement vault of your blog. Unless you have it optimized well for search engines, it's unlikely to be found again.
Here's a couple ways you can get your older content out there.
You can either continually repost older content in a continuous loop, you can edit optimize and republish older content on your blog, or you can do both.
Repost Old Content
To continually repost your older blog posts on Twitter you'll need a plugin called Revive Old Post. This is a great plugin that I've been using successfully for years with little or no problems.
Once it's set up it runs like clockwork.
There is a free version of the plugin which will allow you post to one Twitter account, and if you want to repost to other social media accounts then you'll need to upgrade.
There are a bunch of settings you need to configure which we'll get into, but for now I'll give you a quick run through.
Once you add your Twitter account, you'll be able to configure the following elements;
Interval between shares in hours (or part of)
Minimum age of post to be shared
Maximum age of post to be shared
Number of posts to be shared at one time
Share old posts more than once (select to have on continuous loop.
Post type to be shared
Google Analytics tracking
Include/exclude certain categories of post
Format the contents of the tweet
The formatting of the contents of the Twitter post is really useful. You can choose how your tweet is displayed by configuring the following fields;
I'm not inclined to use this plugin for auto posting to other social media platforms because I've other solutions that work better for those.
However, it's really useful for reposting older content frequently on Twitter because the Twitter stream is so fast.
Once you have enough content in your loop, you can set the plugin up to send out your content as frequently as you like (within reason) without fear of being labelled spam. You just don't have that scope with other platforms.
How I Use This Plugin
I set this plugin up to continually repost my blog posts only, not pages. It starts with the oldest post and tweets it with the following additional text;
Miss this post?
I include the title, link and 2 preset hashtags. You can if you want, include hashtags from the individual post.
My older posts continue to be found, shared and liked on Twitter which is exactly what I want.
Edit, Re-optimize And Republish Old Content
When I look at the older posts on my blog I see that most of them are pretty lame. Over time I've had the opportunity to refine my skills and become better at producing content.
So, I have the choice now to go back to those older posts and rewrite them. Once I've done that I change the publish date to today and hit "publish". The post goes to the top of the queue and get more eyeballs on it.
But that's not enough. Now you want to get this newly edited and optimized post on Twitter and there's a couple ways I do that.
I send my posts out on Twitter automatically using a couple of solutions. The first I'm gonna show you is "Next Scripts: Social Networks Auto Poster"
Next Scripts: Social Networks Auto Poster
This is a complex plugin to configure and will take time to set up. I'm not going to get into a tutorial here because the process would be way too exhaustive and requires an entire post to itself.
Suffice to say that when you set up this plugin you can post to pretty much all your social networks immediately or with a delay, and configure each social media post exactly how you want to.
For more information you should check out nextscripts.com
CoSchedule Editorial Calendar Plugin
I use The Editorial Calendar from CoSchedule to arrange and organise my posts at the back end of my site. The Editorial Calendar has a social share feature that I use to tee up my posts to go out on Twitter over a number of weeks after I first publish.
Continually promoting your work is the key to building your presence online and tools like this one help you do that easily. Posting frequency is an important consideration and differs from platform to platform so make sure to research this.
@JulieNeidlinger wrote a great piece on CoSchedule Blog about timing of social media posts which is also something you need to consider to get best results.
Sharing your stuff over and over on Twitter will not get you penalised, in fact you should be doing it! But like everything there is a right and a wrong way.
Just make sure you take into account Tip #7 above, and share other people's stuff more than your own.

#13 Curate Targeted Content
In Part #2 of the Twitter For Business series I'll go through my exact system for getting Twitter on Autopilot. The following tool is key in that process.
Feedly is a news aggregator application, and it compiles news feeds from a variety of online sources for you to customize and share with others.
Most people use it to simply gather interesting blog posts and news from their favorite blogs, but I use it to get specific posts as they are published and send them to my Twitter followers.
This is how I gather specific content from across the web in one place so I can share it on Twitter. I don't use Feedly to share to any other network.
From within Feedly there are numerous share options available, and this is particularly useful when viewing from the mobile app.
Sign up for a Feedly account here. Also download the iPhone app to your phone.
It's best to add content from a desktop, so go to the left hand sidebar and click "Add Content"
Search for feeds with your chosen keyword and add them to a category of your choice.
On iPhone, tap the three dots top right hand corner and you get a bunch of sharing options. You can also share to your buffer account using the Buffer icon.
Making sure that the content that you share is relevant to your audience and is of high quality is vital in order to keep your business message consistent.
Feedly allows you find and distribute relevant content easily. Once you find the content you want to share, you can use other tools such as IFTTT to begin automating distribution.
#14 Include Personal Stuff (Sometimes)
I am a total believer in showing people my human side. But that wasn't always the case.
Up to a few years ago I believed that my business needed to be big and I needed to be somewhat anonymous. The more corporate looking and feeling my business was the better.
Flawed concept.
People like to deal with people. People don't like stuffy business speak and sterile language. They want to get to know you and become part of community.
This must be the foundation of any relationship. For us to believe that a business relationship is any different to a personal relationship is very short sighted.
When on Twitter we've got to show the soft side, the real us. Our businesses are reflections of us so to show our followers who we are outside of the business frame is a good thing for out business.
Here's an example from Pat Flynn;
In a recent podcast on Smart Passive Income, Pat Flynn spoke to Dale Partridge, author of "People Over Profit" and spoke (amongst other things) about the importance of an authentic company culture.
When you show your real side you invite real people to come get to know you. This is the cornerstone of modern relationship marketing. It's vital that we show aur authentic and real side publicly.
It's simply good marketing.
#15 Post One Twitter Update At A Time
This advice here is short and sweet. Don't hammer out a whole bunch of tweets all at the same instance. It's dumb.
Kevan Lee from Buffer happens to agree. As I mentioned in Tip #10 above, you can set up scheduling with Buffer so there's no reason why you should tweet 20 tweets at once.
The reason why it's dumb is because it will clog up your followers Twitter feed with only your shares and it looks spammy. I know that I certainly don't like seeing it on my feed.
Be strategic about it. Share helpful information at the right time for your audience.
Here's an example;
Let's say your followers are most active on Twitter at 11:00 and 16:00. You can get this information from your Manage Flitter account analytics.
Set up your Buffer schedule to match these most active times, just like this…
#16 Vary Content Types You Share
Publishing your material in different ways via different mediums is always a good idea. And the good thing to know is that you don't need to publish new material for each one.
Taking the same piece of content, publishing and sharing with different media gets your message out further out there with less effort.
Take this post for example; I'm recording a podcast episode on the same subject, the embedded recording for which is at the top of this post.
I also publish it on Soundcloud, iTunes and Stitcher Radio. And of course it goes out on twitter multiple times on a loop as I explained in Tip #12.
The #ContentMarketing Podcast, out every Thursday with Email #ListBuilding Strategies http://t.co/bWQH3AdfQ5 pic.twitter.com/8dMix08nbt

— Larry G. Maguire (@LarryGMaguire) September 5, 2015
I've got this post set up in Manage Flitter to go out every couple of days. I also have it pinned to the top of my profile so it's seen more than other tweets I send.
Try to think of ways to repurpose that single piece of content for your Twitter followers. Here's a few suggestions;
Shoot a YouTube video
Create an eBook (if the content is detailed enough)
People digest information in a variety of ways, so when you make yours available in multiple formats it broadens your reach. Make sure to share links to this material with your followers over and over again.
#17 Use Twitter Automation Tools
I've spoken a lot in this post already about automation and although it may be that you are looking for ways to get your Twitter account running without your involvement, I wouldn't recommend it.
If you're on Twitter for Business reasons then the level of success you have, will be based on the level of engagement you practice, and not your vanity numbers.
Automation is there to help you do a more efficient job engaging with your audience. You can certainly set it all up on auto, I know people who have, but if that's the case what's the point!?
Why have a Twitter account at all?
Here's the list of Twitter tools I use and mentioned throughout this post.
If you are only interested in big follower numbers then you should just go buy 100k followers from some dude in Indonesia.
Twitter tools are there to assist you grow your business and business is built on relationships, not numbers on the top of your Twitter feed.
@IanCleary from Razor Social recommends these Twitter automation tools to help become more efficient.
Here's what Ian says about Twitter for Business;
Less than 5% of your twitter followers will see details of your blog post if you only post it once to twitter. It's controversial to post items on twitter more than once but if you want to promote your blog to twitter you need to post it multiple times to give the best chance of people getting to see it.
Narrow.io
Narrow.io is a Twitter tool by my friend Jerad Meplethorpe, and it's one I suggest you guys should check out. It's probably the simplest and most effective tool I've used to date.
Simply select your keyword or hashtag, hit enter, then approve the audience sample and the app does the rest. It will then search Twitter on a daily basis for people who match your search query and follow them.
Check out how the system works.
Here's what @Maplethorpej from Narrow.io says about Twitter for Business;
When using Twitter for business, make sure your bio/profile really grab users' attention. Your bio is a great tool for persuading a user to follow you and, potentially, check out your site. So make it good!
#18 Use Twitter Analytics
There are lots of analytics tools available to you. Many have similar features so I'd suggest pick one and go with it. Twitter has it's own analytics tool which is free so go ahead and use that to get started.
When you get familiar with analytics and decide on the metrics you want to watch then you may need to upgrade to another paid platform.
Here's a couple of basic metrics to watch;
Your Top Tweet
In Twitter Analytics, have a look at your top tweet. Try to figure out by looking at the time and day, why was this so popular. Look at previous weeks/months top tweet and see if you can find a pattern.
Once you find a pattern, repeat it.
Followers Overview
Twitter Analytics offers a brilliant breakdown of your followers by many different filters so you'll just need to log in to analytics and check it out.
It serves to allow us see if the target audience we want is engaging with our stuff and modify our content accordingly.
If you are a small business owner or sole trader then it's likely you won't have the time ot digest this information so a quick overview is enough to keep you on track.
If you are spending on Twitter Ads then a closer look will be required so as to ensure you are getting a good ROI.
The peeps at @smexaminer suggest these 6 Twitter Analytics Tools. @IanCleary has fourteen free tools for you to try, although some have paid level memberships.
Twitter Analytics really begins to offer value when you are using Adverts for Twitter. In Tip #19 below we'll jump into Cards and Adverts a little and explain how they work.
#19 Use Twitter Cards & Adverts
Twitter cards and ads is a subject that deserves a post all to itself. So I'm just gonna touch on a few features and key points of how these work together, and more specifically Lead Generation Twitter Cards
What Is A Twitter Card?
Well, it's simply a tweet to which to which is added an image or video. The advantage being that they stand out in someone's Twitter stream.
Twitter came out with this upgrade a little while ago, and now, once you add a particular piece of code to your site, when a visitor shares your content on Twitter it will have an associated image attached.
The best way to add this code is to install a plugin like SEO by Yoast. It takes care of everything for you once you set it up.
Here's a good (technical) article from @jdevalk from Yoast explaining the origin or Twitter Cards. It's from a couple years ago but still relevant.
Different Types Of Cards
From Twitter Ads > Creatives > Cards
You can create specific Twitter Cards to simply save and tweet manually or schedule, or use with a paid advertisement.
These are known as Lead Generation Cards, Websites Cards, Basic App Card, and Image App Card. You don't need to run an advert to set up a Twitter Card but you do need to register a credit card.
Here's a very comprehensive guide detailing pretty much all you need to know about Twitter Cards. This blog is all about building your email list so the Lead Generation Card is what we'll take a brief look at.
Once you set up a Twitter Card you can use it to advertise.
The Lead Generation Card
The Lead Generation Card gives you the ability to hook in with your newsletter provider and gather email addresses straight from Twitter. If someone likes your offer they click the Call-To-Action button and are instantly added to your email list
No double optin.
There's a little back and forth between your newsletter provider and Twitter but it's not really too difficult to set up. I found this great article by @Josh_Earl detailing exactly how to do it.
Here's what @Josh_Earl says about Twitter For Business;
For me, social media–Twitter in particular–has proven to be a more reliable source of new email signups than getting organic traffic through writing blog posts.
This is an example of what the finished card might look like
Check out this resource from Twitter to assist you build your first Twitter Advert Campaign
#20 Create Twitter Lists
Twitter Lists can be very handy. They basically allow you to group together people on twitter whose content you need to access quickly, separately from your main feed.
Why Should You Create Lists?
Create a list with family members only
Create a list for staff members
Create one for Customer service
What about creating one for Twitter Chat Members
Create a list of contributors to a particular blog
Compile a list of members of a forum
How about a list of business people you admire
You can create a list of people for pretty much anything you want. once you have the list set up you can add or remove members easily.
The only clumsy thing is from within Twitter there are too many steps required to access your lists. They'll need to make this simpler at some stage.
For now you can use apps like Hootsuite or Tweetdeck to view your lists.
#21 Use Hashtags & Keywords
As a point of clarification, Hashtags and Keywords are pretty much the same thing, only the little doofer (#) prependage is there to allow people find specific conversations.
Use the twitter search functions to find others to engage with, not to sell your junk.
As @HennekeD top drawer Copywriter and Blogger at Enchanting Marketing says;
The endless stream of tweets feels like one-way traffic, but there are precious opportunities to connect. Twitter isn't a sales platform, it's a giant networking event.
You can use Twitter Advanced Search using Keywords and Hashtags to find users in your niche. Having found good quality conversations you can then get involved.
Many conversations on Twitter go on indefinitely and you can remain involved or become an influencer yourself by using specific hashtags for these conversations.
Twitter has a great resource for businesses where you can find out more about Keyword Targeting with specific relation setting up adverts (which we'll get into later).
Here's a simple example of how I use hashtags;
I use the commonly used hashtag #ListBuilding in many of my tweets. This allows others on Twitter who are interested in Email List Building to find my tweets easily.
For this post I've used the hashtag #TwitterForBusiness in the tweetable boxes throughout the post so when you guys tweet those wee messages, others who are interested in this subject can find the article.
"Twitter For Business" is also my chosen keyword for this article. My aim with this article is to rank organically on Google page one for this keyword (we'll see how it goes). So you can see it's a keyword strategy that extends to social media.
@SimonCocking Editor at Irish Tech News and sarahpaddleswim says about hashtags;
Conference hashtags! look them up, jump on them, favourite, retweet the good ones, follow the people who make pithy comments. It's a great way to link with key thought leaders and you will invariably gain some followers too.
Here's a couple of things to keep in mind when using hashtags;
Remember to focus on your audience. Use 1 or 2 hashtags per tweet, no more than that.
Research popular hashtags in your niche using Twitter Advanced Search.
Create a custom hashtag related to your service.
Engage with others who use the hashtags you've identified.
#22 Take Part In Twitter Chats
This one is very much related to the above Tip #21 but is more structured than simply appending your tweets with a hashtag.
Twitter chats are mainly used by businesses, media organisations and such, to hold conversations and gather precious research from its followers.
Twitter chats also help build a strong sense of community.
They are held at a specific time and date and the organisers will pose a bunch of questions with the hashtag attached to the tweet.
Here's how Twitter Chats break down;
The host will pose several questions spaced out over an hour usually.
Each question will prepended with Q1; Q2; Q3 etc
Each question may have a custom image with the organisers branding attached. This is good to help the questions stand out
Answers need to come back prepended A1; A2; A3; etc in response
All answers and general comments will be tagged with the chat hashtag
Use Hashtags To Start Conversations
You can create a Twitter chat hashtag specific to your business and start tweeting about a topic in your niche that is likely to garner discussion.
For example; If you are a baker you could start a discussion about cakes and tag your tweets #cakechat. Engagement might be slow at first but you can expect it to build once you show up each week to hold it.
The standard Twitter feed is not great for staying up to date with Tweets related to a given Twitter chat because the more people are involved the more difficult is becomes to manage.
However there are some tools for managing Twitter chats that you should check out;
Before You Get Started With Your Own Chat;
Understand chats are not meant for selling stuff
Take part in other chats and see how they are done
Pick a hashtag that speaks clearly of your overall subject
When scheduling a time keep in mind that Twitter is global
Pick a particular day of the week and stick to it
Invite influencers to be joint hosts
Research your subject matter and plan before you go live
Use custom images made with canva.com to make your questions stand out
Tweet about your chat in the week leading up to it
Favorite the answers you get
Reply to clever and unique answers
Tweet "thanks and see you next week" when you're done
Keep the conversation going afterwards
Use the answers you gather to build content for your blog
@JFouts from janefouts.com says about marketing with Twitter;
If you really want to grow a Twitter following that has any value as a network,  there's no way around it. You're going to have to work for it. You grow your network organically by talking to other people who really care about the same things you do.
#23 Follow Niche Influencers
There are a number of people online that I admire and whose content I value. I want to know how they work and analyse their methods for achieving their success online.
You should do the same.
As mentioned above in Tip #20, create a list of those you admire and whose radar you would like to get on. Reply to their tweets, retweet them and generally engage with them regularly.
But don't be a stalker!
I got myself a stalker recently on Twitter. Yeah I did! Crazy. The guy was likely well meaning and enthusiastic but holy ghost did he wreck my head.
As a result I'd rather not engage with the guy at all now thanks very much. Finding top influencers on Twitter is easy done. I use Ninja Outreach to do this.
To Find an Email Marketing Expert on Twitter using Ninja Outreach
Go to your Ninja Outreach account dashboard > Social Prospecting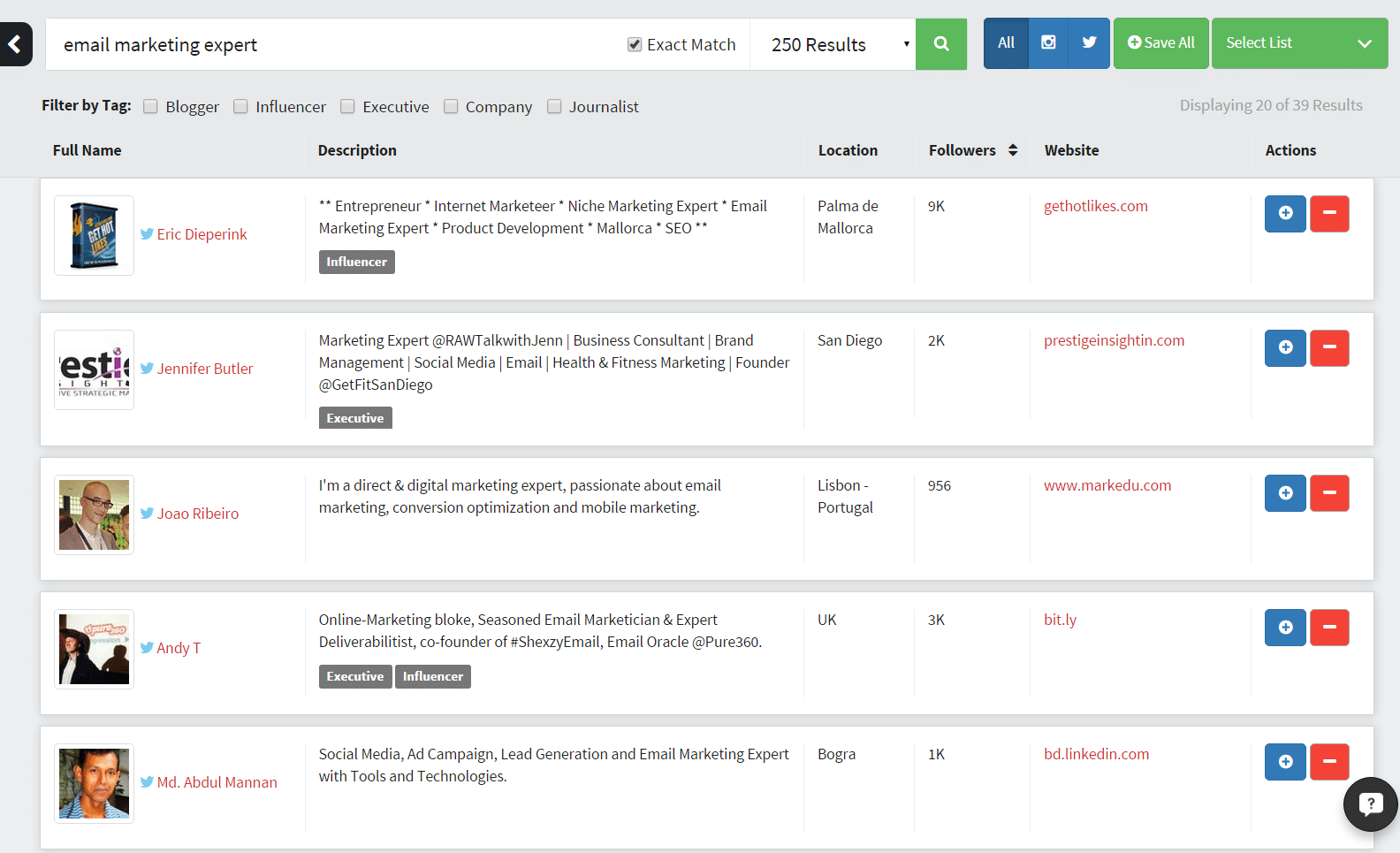 Enter "Email Marketing Expert" in the search
Leave "Exact Match" checkbox checked
Select your filter of choice by checking "Filter by Tag" checkboxes
Filter your search by "Follower Count"
Click "Save All" to save your search to a list.
As you can see, finding niche influencers is a cinch.
Dave Schneider @SelfMadeBM from Ninja Outreach says;
Twitter is great because the data is very clean and the simple metric of number of followers is useful to sort out who has a decent following and can drive results for your podcast and be interesting to your audience.
#24 Unfollow Regularly
Yes that's right… unfollow poor quality accounts and spammers etc on a daily basis. There are many accounts on Twitter that are very poor quality and they offer no value to you.
This will take you quite a while using Twitter itself, but there's a better more efficient way to find those who you need to unfollow.
Here's how to do it;
Log into your Manage Flitter account and navigate to Manage > Unfollow
Next, click on "Display" located beside the gear icon
Select the checkboxes as required. I usually set it up as per the screenshot above, excluding those who I've followed in the past 3 days to allow time for them to follow back.
If they don't follow back, then they're outta here!
Click the Select "All Accounts" button to add these account to your unfollow queue. You can then go and unfollow them manually or have Manage Flitter do it for you over a number of days.
Twitter are very tight on follow rules so you've got to be careful that you don't breach these or you could get your account banned.
Using Manage Flitter's Remote Management ensures you don't get your hand slapped by Twitter or worse, lose your account.
Check out this great article from Manage Flitter on how to grow your Twitter following organically
#25 Watch Follower To Following Ratio
If you want to use Twitter to engage with an audience and bring value as well as receive value then you want to aim to have a follower to follow ratio just below 1:1
Here's what I mean by this…
If you have 1000 followers, then you should aim to be following just below that, say 893 (0.89:1)
And when you are searching for those to follow you want to find those who have a similar ratio. You want this because it says they are interested in engaging with others. (I learned this from @KimGarst)
I've gone for a ratio range from 0.7 to 2. It's a little broader than 1:1 but I like to capture a wider range of accounts and then trim it back later.
There's lots of Twitter rockstars out there who maybe don't use twitter for marketing as you or I would, their profile is strong enough so as not to have to engage with others like I'm showing you.
But if you are building a business and using Twitter as a channel then you need to go out and find the right people to target. When you become a rockstar, well… that's a whole other ballgame.
#26 Use Twitter For Video
So we finally have the ability to add video directly to our twitter streams. I've experimented with it a little using my iPhone and it's pretty easy to do.
Before you get into it, here's a couple things to consider;
Regular tweeted videos are 30 secs max
Videos in adverts get 60 secs
You can still post a link to a video from YouTube and Vimeo
You can add a video directly from within the iPhone or Android App
You can record and save a video to your smartphone and upload it to Twitter later
You can trim the video to the appropriate length before uploading
Be prepared to make loads of takes before you get it right!
Get inventive. Do something different.
Post video regularly and let people know who you are.
Here's a little Twitter video hack you can use;
#27 Construct Engaging Headlines
In a recent post here on the blog, I wrote about How To Structure A Blog Post People Will Read it, and as part of that I touched on the importance of the headline.
Headlines are vital tools in drawing your reader into your content, and like with articles headlines, if your tweets don't strike a chord then they won't be clicked.
Use the formula;
Quantity + Benefit + Positive Result
These elements don't need to appear in the way I've shown them, move them about in any sequence so long as the sentence makes sense and reads well.
Certain words generate emotion in the reader and are more inclined to cause them to click your headline. You need to use these words. Check out this article to find out more about good copywriting techniques.
Also check out CoSchedule's Headline Analyzer. It's a great tool that I use to develop my headline before I publish a blog post or podcast. I make sure I get the green light on the headline before I begin to produce the content around the idea.
A green light is a score above 70 and I am good to go.
#28 Check Spelling & Grammar
I make spelling and grammatical mistakes all the time. We all do it, ok, you're forgiven.
But if you don't know the difference between "your" and "you're" or you resort to using so called modern text speak in your tweets then I'll graciously request that you snap out of it!
Shorthand and text speak drives me crazy!
Occasionally I'll use words like "gonna" when I'm writing because it's friendlier, looser and somewhat conversational, but that's about it.
If you use text speak in your business tweets then quit it. Unless you're selling teenage widgets to teeagers then there's no need for it. In fact, it's doing your credibility damage.
If you have staff handling your Twitter account, or they are using their own Twitter account to promote work related content then you'll need to be clear about the standard you wish to have.
Set out in your company internet usage policy how you want online all communications to be made by staff.
This will help you deliver a consistent and professional message on Twitter and anywhere else you promote your business online.
#29 Tweet Famous Quotes
People love to quote clever utterances from those who've been there and done that. I know I do. Quotes have this uncanny ability to convey a message in very few words, and leave us that little bit wiser than before.
Entire websites operate based on compiling famous quotes from past and present greats, and you can add a little flavour to your tweets by teeing some of these up on a daily basis.
Pablo
I use Pablo from Buffer to create image tweets with famous quotes. I don't go bananas with quotes, only one per day in the morning at about 09:30 which I send out across my social media accounts.
Create your image post and choose the text you want to display. You can go with the default quote from Pablo or paste in your own.
You can also add secondary text too.
Here's what your post image might look like
Once you're done you can post directly to Twitter or tee it up in your Buffer feed.
If you want you can create your own custom tweet by uploading images from your computer. You can also add a logo to the image. I simply add secondary text with my website url.
All very handy. Play around with it, you'll grasp it very easily.
#30 Be Unselfishly Helpful
Identify your niche. It's one thing you need to do right from the word go.
Once you figure out who you want to serve, find out what floats their boat, what keeps them up at night and deliver them your product or service framed in solutions to their problems.
Fulfill their desires and solve their problems and you'll build a band of loyal followers.
As above in Tip #22, get involved in twitter chats that are closely related to your niche. Use the information and feedback from others in chat to gauge what the real issues are.
Then go figure out how to solve them.
Here's what @JeffGoins from goinswriter.com says about using Twitter;
Share valuable information and ask for nothing in return. I had a few hundred followers and thought that Twitter was more about me than others. In the past half-year, I've tried to build more community by focusing on others for a change. The results speak for themselves.
#31 Be Polarizingly Opinionated
How great is it to be different?
Magic, if you ask me.
Too many of us try to blend in. We see what everyone else is doing and we do the same stuff. When in fact the key to success is being single minded and focused on being unique.
Sure, we can look around at what others are doing and aspire to what they have achieved, but sacrificing our individuality to be like others is a real pity.
Get your opinion out there, forget about what others think. If you sit on the fence even a little bit when it comes to your own opinion, then that will come through.
You'll never please everyone so take pride and energy from your community, even if it's small. Even if you have more people disagreeing with you.
Find your authentic voice and speak it. Say your truth.
Here's what @ChrisBrogan from chrisbrogan.com says about using Twitter;
There are no hard and fast rules. There are actions that will get you reactions. There are norms that are amplified in the digital space where there are fewer signals to follow. But the rules are all an imaginary set that you can test for yourself all you want. You want to use Twitter your own way? Do so. Make it valuable for you.
[/fancy_box]
#32 Remember To Have A Laugh
Maybe this one should be top of the list! However, maybe it will be remembered most because it's the last one read.
Have some fun, don't be a stuffed shirt.
Business can be made a very dull, sterile and boring place but it doesn't need to be that way. I guarantee if it feels that way for you then you're on the wrong path.
As Thomas J. Watson said;
To be successful, you have to have your heart in your business and your business in your heart.